Chess tournament Danang/Vietnam
07.02. - 16.02.2025
at the
5*Hotel Furama Resort Danang
Chess at one of the most beautiful beaches in the world

Chess tournament and -programme | Information und booking | The hotel | Schedule | Getting there
Prices per person starting at:

Double room Superior Garden view
999 €
Double room Superior Lagoon view
1.125 €
Double room for single use Superior Garden view
1.899 €
Double room for single use Superior Lagoon view
2.149 €

Extra nights + 210 €/room and night. Lagoon view + 238 €/night.

Early bird prices for the first 8 rooms (less than 6 available), max. until June 30, 2024, after that +200/room

Minimum number of participants 15 as of June 30, 2024

Supported by

Travel prices include:



no travel arrangement
For maximum flexibility, the arrangement does not include flights. This means you are not tied to the group and can take off from your desired airport, make a stop-over in Asia or choose a higher booking class. We expect participants from all over the world, with a focus on Germany and Switzerland. We are happy to help you with flight bookings as much as possible, see also the point Arrival.
9 nights at the 5*-Hotel Furama Danang, room category Superior Garden View (40m²)
Meals: Breakfast
Travel support
Chess program/tournament

Schachreisenis an individual travel product that we would be happy to provide you with information about in person at any time.

Information und bookings
Schachreisen Jörg Hickl
Lindenplatz 12, 65510 Hünstetten, Germany
Tel.: 06126 95 83 45, E-Mail: Diese E-Mail-Adresse ist vor Spambots geschützt! Zur Anzeige muss JavaScript eingeschaltet sein.
The Hotel
Overlooking the long stretch of wide white sand on Danang Beach, Furama Resort Danang is a gateway to three World Heritage Sites of Hoi An (20 minutes), My Son (90 minutes) and Hue (2 hours). The 196 rooms and suites plus 70 two to four bedroom pool villas feature tasteful décor, designed with traditional Vietnamese style and a touch of French colonial architecture and guarantee the Vietnam's the most prestigious resort -counting royalty, presidents, movie stars and international business leaders among its celebrity guests.
Rooms
The rooms in our group contingent belong to the Superior Garden view category and, for an additional charge, Lagoon view. The size is around 40 m². If you would like a higher quality room/suite, we would be happy to inquire for you. However, upgrades cannot be confirmed until the end of June 2024.
Enjoy the sunset from the spacious balcony or terrace of this superior room. You will find everything you need to feel comfortable: elegant furniture, twin-sized bed, polished timber floor, walk-in closet, ceiling fan, and a generous marble bathroom with a luxury shower.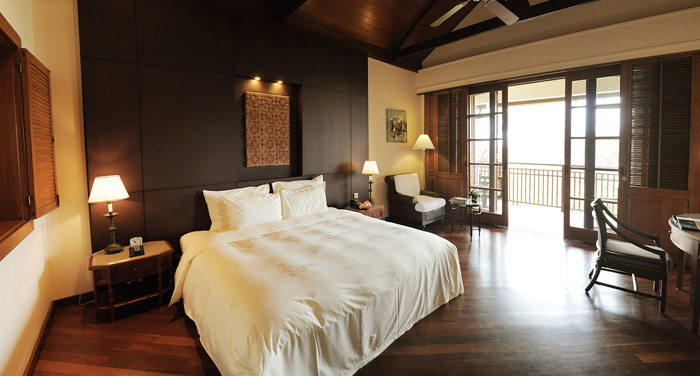 Garden Superior
Furnishing
The rooms are spacious, air conditioned and have a private balcony overlooking the tropical surroundings.
They are decorated with wooden floors and elegant carpets and offer a walk-in closet, spacious seating and large marble bathrooms.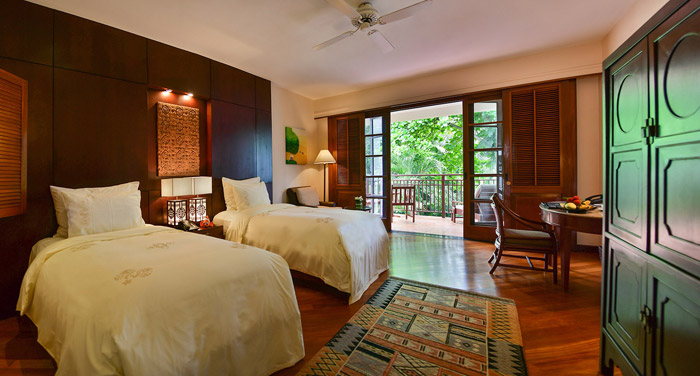 Lagoon Superior
Gastronomy
The resort's culinary experience features a mixture of authentic and locally inspired Vietnamese, Asian, Italian, and other European cuisines plus the best-imported steaks. The resort presents guests with varied gastronomic venues – the hip and breezy bar overlooking the beach, the exclusive Lagoon pool surrounded by a tropical garden, the true Italian flare offered at the Don Cipriani's, the refined Asian touch at Café Indochine, or the authentic central Vietnam cuisine at the Danaksara. Furama Resort Danang also impresses and amuses guests with various fun and exciting programs such as excursions, water sports, diving, and golf as well as health and beauty services.
Sports and entertainment
The hotel offers a variety of leisure activities. At the spa you can enjoy luxurious beauty and wellness treatments, including various massage styles and facials. Relax in the steam room and sauna or have a massage by the pool. The resort also offers water sports activities such as windsurfing, sea kayaking and water skiing. There are also yoga and tai chi classes on the beach.
A variety of cultural-themed parties on the beach or around the lagoon, in the ballrooms or outside the resort, with the surprising arrivals of VIPs from a Helicopter landing on the resort's own Helipad, plus exciting team building activities and water sports, pioneering international-standard scuba diving – "Diving Base", two 18-hole golf courses nearby, as well as health and beauty service, make the Furama Danang the ideal venue for MICE groups
* There is no right to a specific speaker. If one of the speakers is unable to attend, we will endeavor to provide an equivalent replacement.